BD Line
&nbspGARULFO graphic style
Drawn by Maïorana, Colors by Leprévost
I. The characters : evolution on six albums
I was quite surprised when I started this study, to find so many evolutions around the series. The characters, especially the human characters evolved a lot, as if the artist was changed ! There is only one year between each album.

If you look at Garulfo himself, he stays quite the same, his number of toes being very random, but thats a detail :) By looking at the pictures, you shouldnt take the lighting into account, as the action may take place at day or night.

But looking at Romuald or Héphylie, I was shocked to see the differences. It is not so obvious when reading the albums, even one after another. I only spotted a real change in Héphylie in album 2, but even Romuald (his body, I mean), is drawn much more cartoonish, with a single shadow.

He starts out with an oval shaped face, and evolves into a much more squarer one. Héphylie has a similar evolution.

The equinox heroes

Metro Chatelet heading Cassiopée


Brooklyn station terminus Cosmos

The Inverloch specters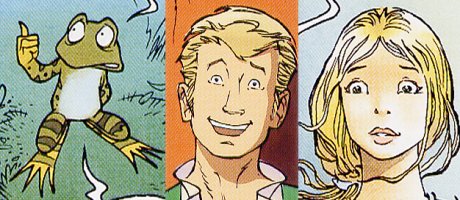 The Hypsis lightnings

On the borders
II. Level of Detail
This is the first serie where I could notice a real work on the level of detail of his characters. Here is an example with the main character, Garulfo himself. Being small by definition, when the camera is set to see a whole human, Garulfo shrinks into a mere speck.

When the action focuses on him, he is of course seen at the maximum size or the one before (6 or 7). You can make out precise facial expressions, including eyes, mouth, and complete face. All body details are drawn.

Along humans, a frequent situation, he can be seen at sizes 3 to 5. On these occasions, body elements start to disappear : his green spots are forgotten, the face becomes limited to eyes and lips, and then eyes only. His feelings are still based on limps for instance, but its amazing to see, at size 3, you can still distinguish what Garulfo is doing.

On farther shots, Garulfo becomes a tiny speck but can still be seen around. At these sizes, the objective is mostly to locate him in the action.
III. Lines width
Another peculiar feature of this serie that I noticed was the precise and extensive use of different lines widths to set down the place of the object in the background. In this cell, this is very clear.

Characters numbered 3 are in the foreground, whereas numbers 2 then 1 are more and more in the background. The width of the pen used doubles then triples. Characters in the far background are completely drawn with the smallest pen, of course, and closer ones are entitled to different widths, so they look much more detailed and precise. Main story characters, being, most of the case, in foreground, are treated with the highest quality.

Foreground characters, in this example, also get darker colors, and shadows.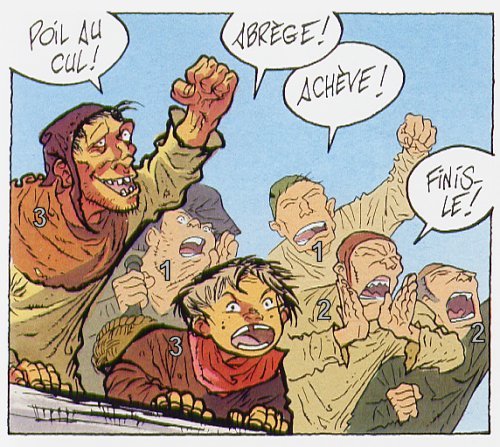 IV. Faces
The Garulfo serie also has a special mix of quite-realistic style, along with a shameless use of comic-like expressions. Here is a collection of faces from albums 4 to 6, where, as you gathered from the first paragraph, the style evolved less.

Romuald is usually very realistic, not as much as XIII or Thorgal perhaps, but the difference is mostly in the number of strokes and scars. However, if you browse the examples here, Romuald uses a lot of very comic expressions.

He can have a face-large smile or a face-large grin. His features can be expanded when he is pressed against a wall, or shrinked by strain.